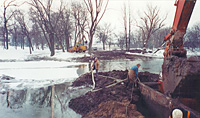 Native American brothers, Norb and Jeff (Chief) Dretzka were raised in the Sewer and Water Construction Industry with its inherent hazards, obstacles, challenges and harsh environment. Trained by their father, Leo, the brothers were taught to be hard working, innovative, enduring and resourceful "Sewer Rats". This unusual skill set, combined with their philosophy "Deeds Not Words" and their unique variety of experiences motivated them to create Underground Pipeline, Inc. in 1984.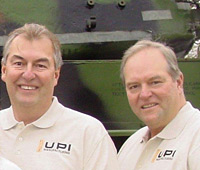 In 2003, inspired by a desire to participate with the United States warfighters in winning the Global War on Terror, Chief and Norb, created UPI Manufacturing.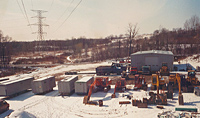 Occupying only 800 sq. ft. of the construction building in New Berlin, WI a team of three's, first attempts at defense contracting met with the heavy resistance of an overly complex federal supply system. However, committed to "delivering quality on time" UPI Manufacturing gained the knowledge and experience to navigate through the system.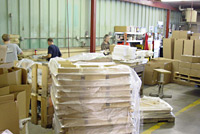 Providing many vehicle components, primarily transparent armor, for the Defense Logistics Agency as well as becoming proficient at Mil Spec Packaging prompted a move to a larger 4,000 sq. ft facility in Fort Atkinson.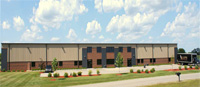 In 2007, after being blessed with continued opportunities and growth, UPI Manufacturing, operating with just 7 employees, moved into its newly constructed 28,000 sq. ft. manufacturing and office facility in Eagle.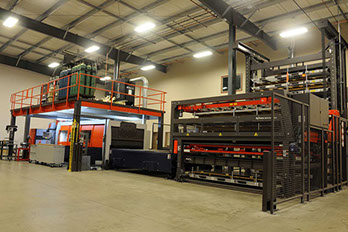 By 2012, after developing new capabilities, personnel and ISO procedures, UPI expanded its operations to 68,000 sq. ft. with 72 team members.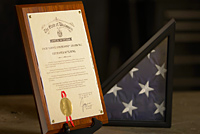 Maintaining their philosophy of "Inspired by Patriotism, Empowered by God, and Committed to Victory", UPI Manufacturing has received repeated awards from The Governor of Wisconsin, Congressmen, Senators, The SBA, as well as US Generals, Admirals, Colonels and warriors in the field.
The determination and unquenchable work ethic of two Native American brothers, Jeff 'Chief', Norb Dretzka, and their father Leo Dretzka led to the birth of Underground Pipeline Inc. in 1984. The unfortunate ending to their father's underground utility construction business became the life changing event that led to the beginning of this new enterprise. From these humble beginnings UPI would evolve for 20 years to become recognized as a regional leader in the sewer and water line construction industry in Milwaukee, Wisconsin.
In an effort to smooth out the off season work flow gyrations of the construction industry, Chief and Norb decided to develop a new business to make use of the under utilized workers. This evolution came about primarily as an economic measure. Success of this new venture would insure the ongoing sustainability of UPI and its family of valued employees.
Because of their dedication and tenacity, 'Chief' and Norb Dretzka agreed that they needed to do everything they could to help fight the global war on terror; so in 2004 a new manufacturing division was formed to supply high priority product requirements for the Department of Defense. The UPI team assembled the information learned and used this opportunity to create the new enterprise. This new knowledge, their responsible work ethic, and their patriotism helped them identify ways that the new business could increase manufacturing levels and lead to a realization of their goal of protecting and directly supporting the war fighters. As a result of their initiative and the unending work ethic, the UPI team now ships contracts into the millions of dollars from their new facility in Eagle, WI.
UPI has grown from its original 800 sq. ft. space in New Berlin where they grew into a 4000 sq. ft. space in Fort Atkinson from there building a 28,000 sq ft building in Eagle which still wasn't big enough as they had to add on in 2012 and UPI Manufacturing is now occupying 68,000 sq. ft. and growing.
During the summer of 2012, 'Chief' was thrust into the sole leadership of UPI as a result of the unfortunate passing of his brother and partner, Norb Dretzka. The Christian principles that have guided UPI to its continued success over the years were again put to the test. 'Chief' committed to the mission of UPI Manufacturing: "Motivated by Patriotism, Empowered by God, Committed to Victory", and led the company through an expansion project that more than doubled the size of the manufacturing facility
UPI Manufacturing CEO, Jeffrey 'Chief' Dretzka was recently presented with a State of Wisconsin proclamation from the office of Governor Scott Walker, establishing November 1st 2012 as "UPI Manufacturing Day". Letters of accommodation were also presented to 'Chief' by the offices of United States Representative Paul Ryan and United States Senator, Ron Johnson.
'Chief' is eternally thankful to the blessings of God and the many people who have helped UPI Manufacturing advance the capability of the business, while also strengthening the local economy in Wisconsin. UPI is proud to be a link in the supply chain to protect our war fighters. "May God protect those who protect us". We consider ourselves part of the team making America a safe place for our friends and families. We continue to give all the glory for our continued success to Jesus Christ. His grace has made our success possible. Jeff "Chief" continues the motto started by he and his brother Norb at Underground Pipeline, Inc: DEEDS, NOT WORDS. We believe this and endeavor to live by it.