Precision Solutions for Diverse Applications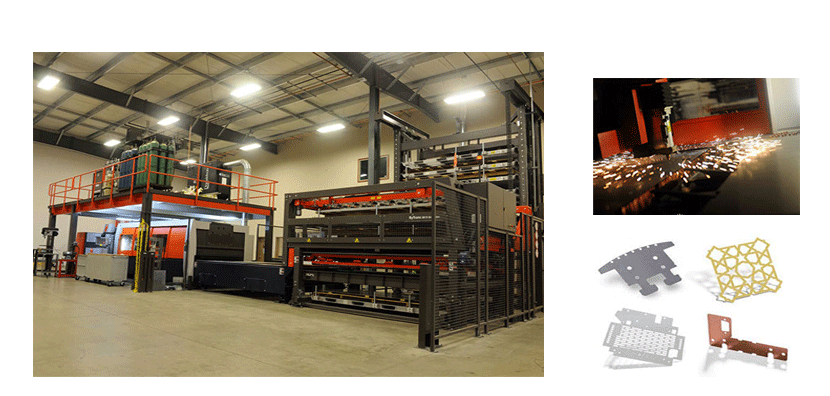 Bystronic ByLaser 4400 // ByTrans 3015 Extended // ByTower Storage Tower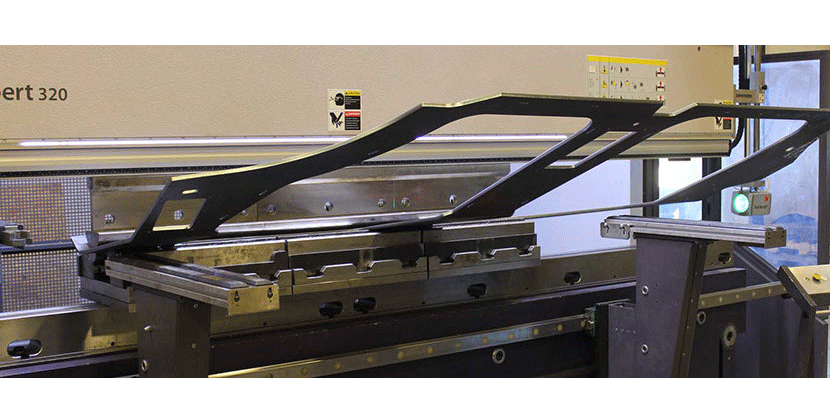 3/8" 46100 ARMOR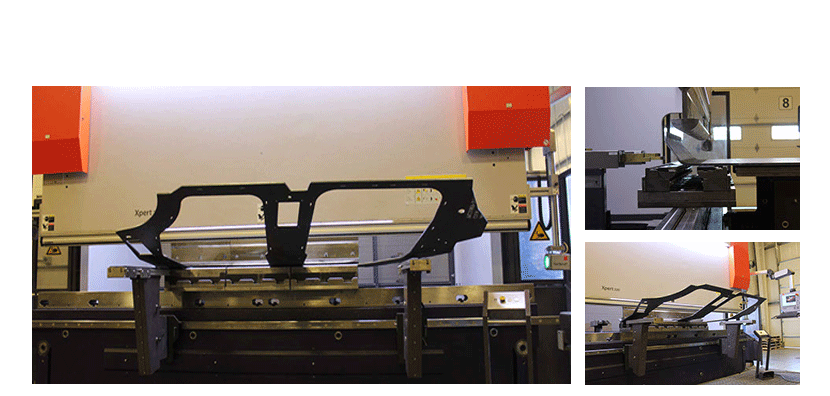 Bystronic Xpert 320 350 TON PRESS BRAKE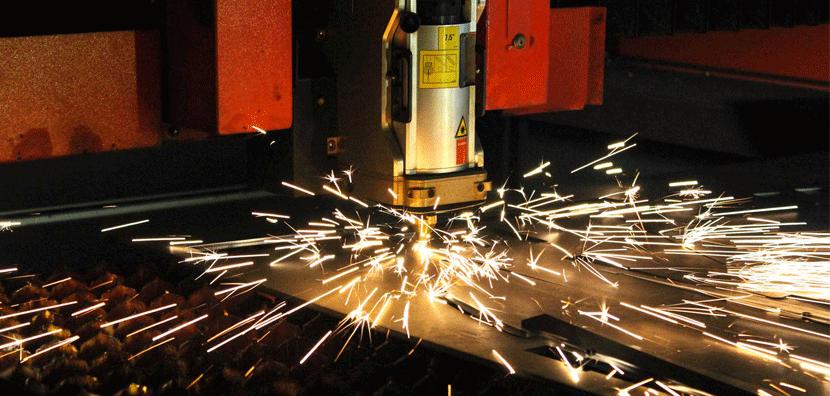 UPI has a modern Fabrication Department centered around a Bystronic 60x120 Laser and a matching Bystronic 350 ton x 14' Press Brake including fully automated material handling. We commonly work with materials including Military Grade Armor, carbon steel, stainless steel and aluminum.
One area UPI Manufacturing has distinguished itself is in Military Armor forming. We commonly form 46100 and 12560 in thicknesses up to 1". We have years of experience to draw from to help customers develop armor solutions.
At UPI we maintain material traceability when requested including Heat # and even Sheet #. We also can serialize weldments and document which Heat #'s are included in the final product.
UPI Manufacturing is dedicated to strict compliance of standards and codes in welding. Requirements are analyzed and specific procedures are developed for individual cases. All our welders are trained, tested and certified to perform required operations. UPI employs an on-site American Welding Society, Certified Welding Inspector (CWI) to insure code integrity and high level weld performance.
We continually invest in state-of-the-art welding equipment which allows us too quickly & accurately fixture for low quantities, while our machine shop can create rigid fixtures for larger jobs.
With our welding roots in military contracting, UPI has consistently provided the US Military, and its suppliers, with products to meet demanding MIL-SPEC requirements. Over the years we have expanded our abilities to meet our commercial customers' demands on highly complex weldments also.
Welding Qualifications: (include)
AWS Certified: D1.1 / D1.2 / D1.3 / D1.6 / B2.1
MIL-STD-3040: Arc Welding of Armor grade steel .125 thru 1.125
US Government Ground Combat Vehicle Welding Codes
A. 12479550 (Steel) for Non-critical, Critical and Ballistic
b. 12472301 (Aluminum)


Gas Tungsten Arc Welding
Gas Metal Arc Welding
Shielded Metal Arc Welding
In-house certification (CWI on-staff)
Third party certification and NDT (When required)
UPI's Engineers work side-by-side with our Production team to develop solutions that meet a wide range of customer needs while providing the best value.
We commonly reverse engineer customer's outdated drawings turning them into modern CAD models that we use throughout the production process. Have an idea on a napkin? Our Engineers can turn it into reality!
We are proficient in the use of MASTERCAM, SOLID WORKS, GIBBS, BYSOFT, FLOWNEST, CALYPSO, POLYWORKS and many other current versions of manufacturing engineering software. We pride ourselves on our history of successes in solution-based engineering, rapid prototyping and reverse engineering.
UPI Manufacturing's full-service machine shop is equipped with the latest CNC technology as well as various manual machines. Our team of highly skilled and experienced machinists enables us to be able to respond to our customer's most stringent requirements.
Our CNC equipment allows us to machine various materials from Iron to Inconel while holding tolerances within tenths.
Utilizing the latest technology in CAD/CAM software we can both program and machine 2D and 3D parts. Our ability to design and build our own fixtures allows UPI to produce not only prototype parts but production parts at a rapid pace giving our customer a competitive edge in today's fast-paced market.
UPI has preferred vendor partnerships with many local companies allowing us to offer cost effective and timely solutions for the processes we outsource.
UPI has upgraded to the OMAX 120X Series, one of the largest OMAX bridge-style, 5-axis machines. The OMAX 120X Series also features IntelliTRAX, the high-precision linear drive technology designed exclusively for the abrasive waterjet environment. The extra large cutting area of the waterjet, 120" x 240", makes it ideal for multiple part projects or large-scale part production.
Our waterjet's ability to cut through inches of various materials makes it a key asset in our arsenal of production machines to accommodate all varieties of requests from customers.
This particular waterjet also utilizes the OMAX Dual Head programming and cutting for faster, more efficient completion to larger quantity jobs.
As an ISO Certified, award-winning, tier 1 Government Military supplier, UPI's Quality Systems are based on meeting and exceeding the Customers expectations. Our primary Quality Assurance Lab represents the heart and soul of this philosophy.
Equipped with advanced technology, software, and hardware, coupled with highly accurate instruments, machines, gages and tools, we can ensure product conformance to the highest standards. UPI's automated vision system has the ability to measure the width of a line on a drawing within .0003 without touching it. Our Zeiss CMM measuring 48" X 95" X 40" in size, is capable of scanning and measuring products to within .00003 of an inch. UPI's most recent purchase of a Faro Arm, has a scanning sensor that can measure in infinite directions with both touch trigger probing and scanning. It is capable of taking up to 6,000 points per inch. The reports of the Faro Arm have the ability to show various depths and tolerances that help us ensure the parts are compliant. Combine everything with the Calypso and/or Polyworks Software, UPI is capable of measuring just about anything.
Through the implementation of Statistical Process Control (SPC) and continuous improvement along with our in-house 6 SIGMA Black belt, UPI also performs First Article Tests (FAT), Production Part Approval Process (PPAP) and Initial Sample Inspection Report (ISIR).
UPI hosts a large assembly area , complete with highly trained technicians and track tested equipment. Our assembly projects may be as simple as bolting two components together, or as complex as engineering work-stations, involving tooling, automation, and instruction videos. We understand that there may be an easy way, a hard way, or an efficient way to accomplish a task, so at UPI we emphasize right sizing the assembly procedure to maximize productivity, quality, and safety while reducing costs.
UPI can also efficiently satisfy our Customer's requirements for kitting, if required. With our experience and proven ability, we can fully develop or assist in developing a robust, high value, yet cost-efficient kitting solution.
UPI works closely with DCMA (Defense Contract Management Agency) and has a strong understanding of the DEFARS (Defense Acquisition Regulations) which allows us to coordinate appropriate military inspection and shipping to accommodate our Customer's requirements.
We pride ourselves in our ability to design specialty packages, built to ship around the world, keeping the product safe and unharmed.
Painting and Sandblasting
UPI is certified to paint MIL Spec Carc and Macropoxy. Our Sandblast booth is 12' x 31' x 10' and is able to accommodate large parts, even vehicles. The Paint booth is 14' x 30' x 10' and has many racking options designed for various sized parts to be moved through safely and ensure full coverage.
We have the ability to blast various types of material utilizing different blast media. Our pre-treat process also may include various chemical and primer processes to satisfy MIL Spec standard requirements.
Our paint inspection includes the ability to measure paint thickness and ensures proper coverage.
Adding the Paint and Sandblast booth helps keep parts completely in house so we can ensure our customers parts are finished correctly and on-time.